Feta - to cube or not to cube?
Feta is a brined, salty cheese made with sheep's milk or a mixture of sheep's and goat's milk. It is soft and has a crumbly texture, and, indeed, packs a salty punch!
For that reason, a slab of feta, not cubes of feta, is added to the plate with vegetables, so one can decide how much to eat with each bite. With cubes of feta, you risk biting off a large chunk and its saltiness overpowering all the other flavors.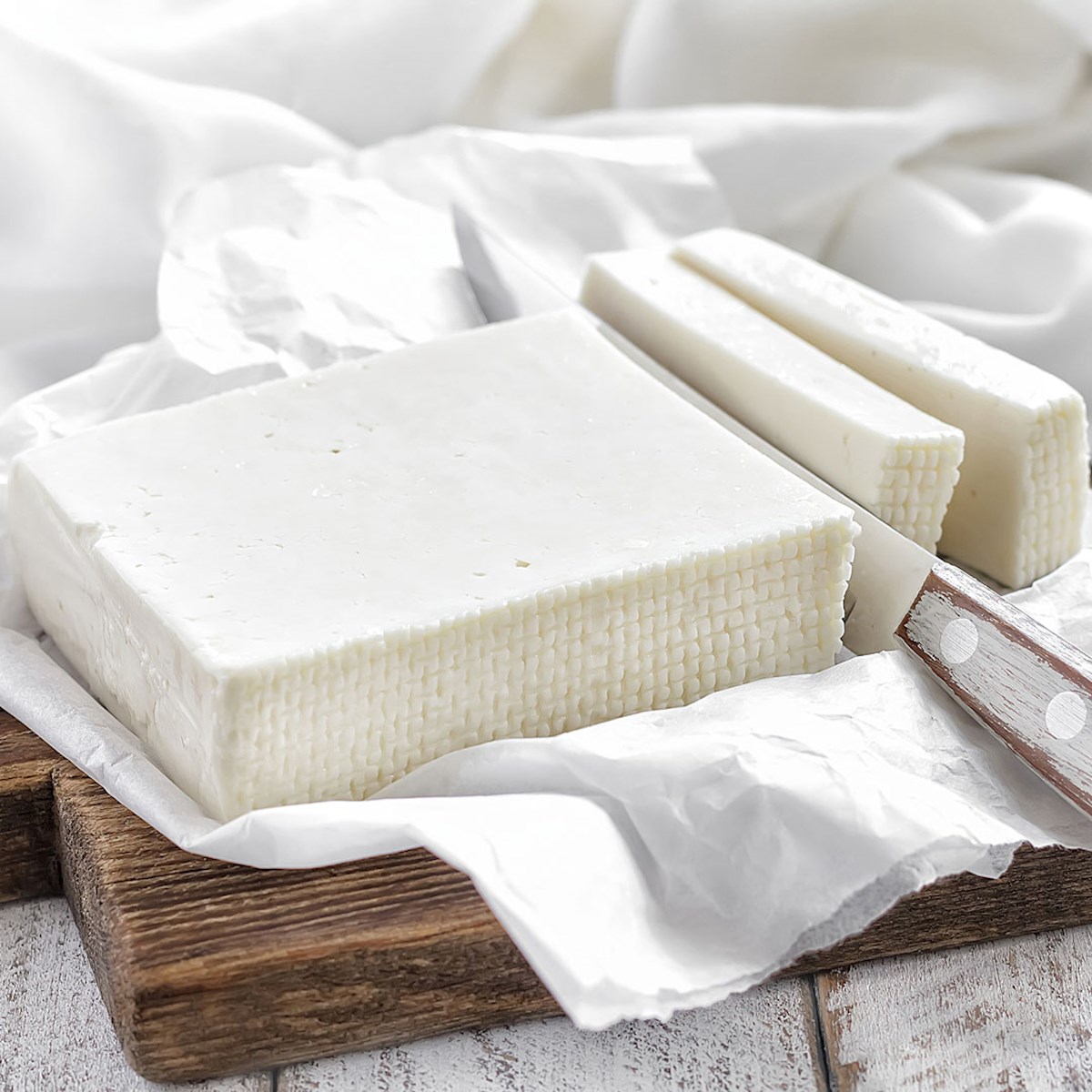 Credits: Shutterstock
However, when ordering a Greek salad in a restaurant, getting a plate of Greek salad with a slab of feta cheese on top is important for another reason as well. It means you most likely didn't get leftover cheese from other customers! A very important thing if you're in a restaurant you're unfamiliar with, wouldn't you say?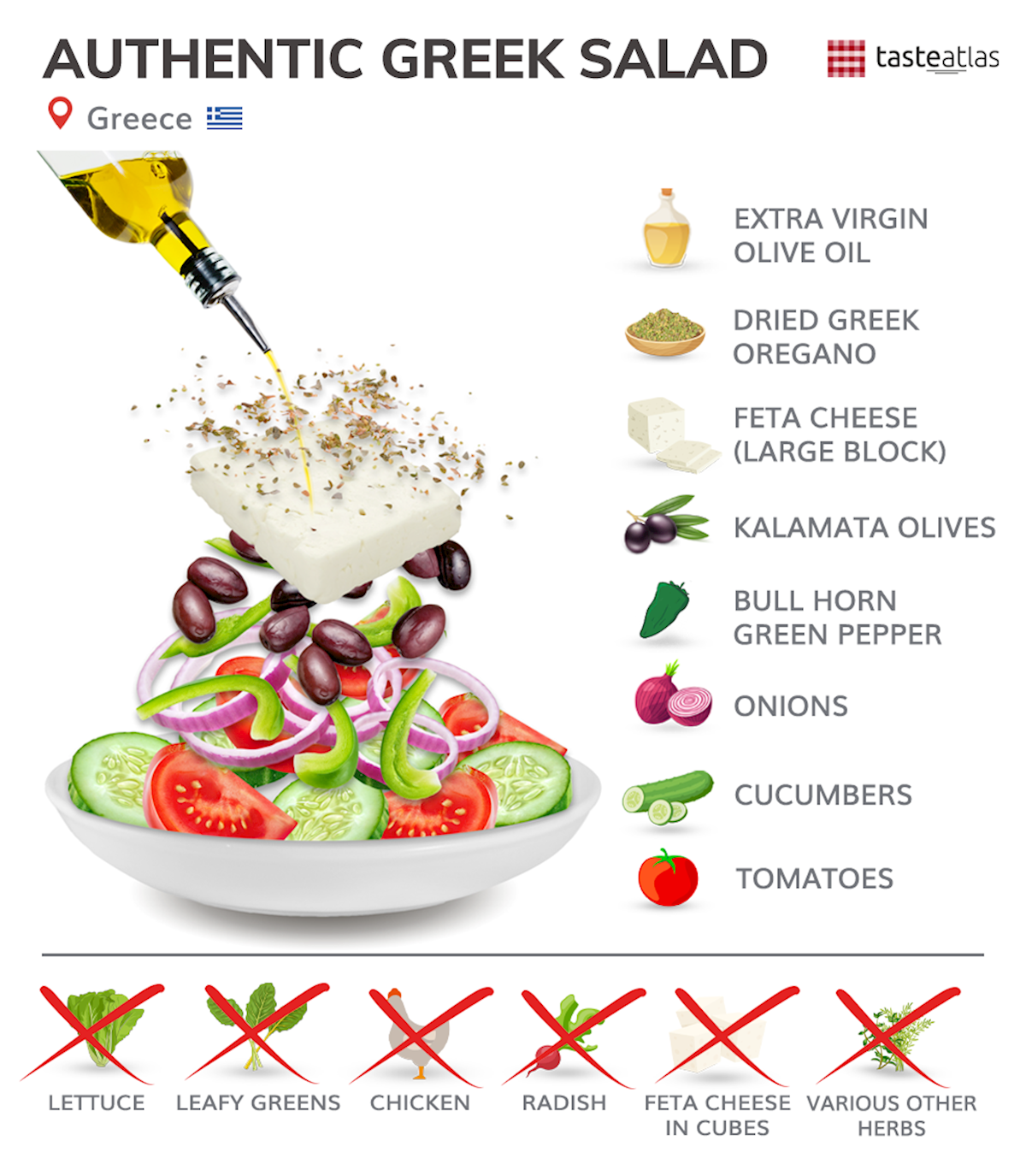 Credits: TasteAtlas
The vegetables - red and green
Tomatoes, red onion, green peppers, and cucumber are the main building blocks of a traditional Greek salad. The tomatoes should be cut into chunks or thick wedges as they will release more juice when cut that way as opposed to slices. The cucumber needs to be peeled and cut into slices or half slices, while the red onion needs to be cut into thin slices, and the green pepper cut first into rings and then cut into bite-sized pieces.
Interestingly, the importance of green peppers is so great that, according to the owner of To Antikristo from Crete, customers have returned their Greek salads if they had red or yellow peppers, even though they taste better than green ones. Tradition is tradition, and it must be respected.
In any case, the vegetables need to be cut into bite-sized pieces so they are easier to eat. If cut smaller, they will turn mushy quickly, and it will be difficult to eat them with a fork. Layer the vegetables and do not toss them.
Optionally, if you do not like the taste of raw onion, soak the slices of onion in cold water and vinegar, or crush them to release their juice and make them soft.
Olives - watch the teeth!
Although seemingly practical, using pitted olives is a sacrilege, as they have lost a lot of their flavor and are a briny, mushy mess. Go for unpitted Kalamata olives, which have firm flesh and a complex, fruity flavor that adds to the salad. Still, beware! Remember to watch your teeth or pit the olives yourself if you don't mind the extra work.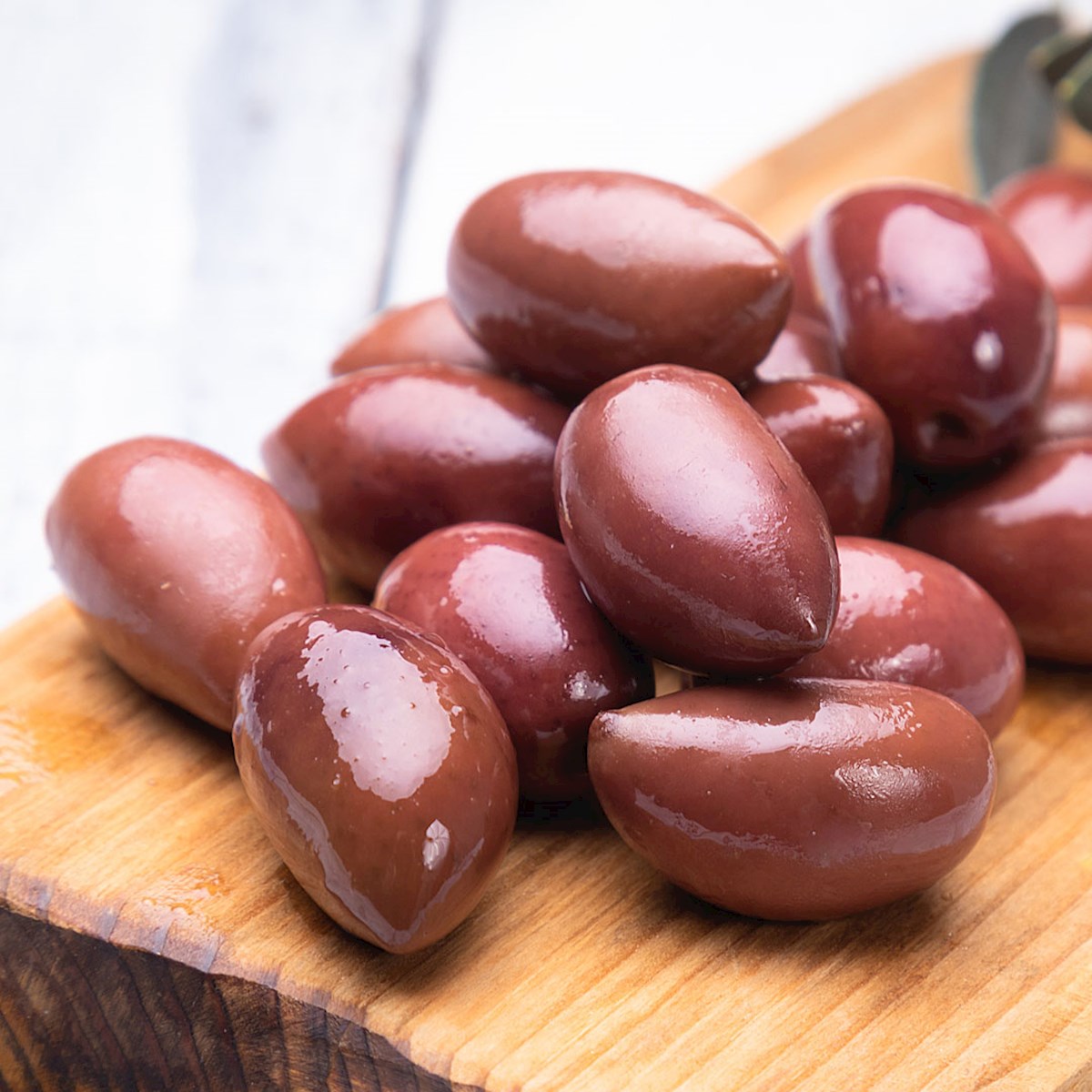 Credits: Shutterstock
Seasonings - which ones, and how much
One of the major faux pas when it comes to Greek salad is, maybe surprisingly, the use of vinegar or lemon juice. See, because the tomatoes and cucumbers release a lot of juice, there really is no need for adding anything extra, just good-quality extra virgin olive oil, salt, and oregano.
Use salt sparingly, as feta is already salty, and crumble the dried Greek oregano over the salad as a finishing touch.
Still, regional variations do exist. In different parts of Greece, Greek salad is made with different ingredients. For example, capers, purslane, and purslane leaves are also used to make Greek salad.
How to serve and with what
Greek salad should be served on a plate or in a shallow bowl and mixed after serving. It is either a side dish to any main Greek dish or a stand-alone meal. If served as the main dish, it is meant to be a light meal or served for supper, paired with a piece of crusty bread for mopping up the juices.
As far as pairing suggestions go, Greek salad goes beautifully with any of the following white Greek wines — the dry Assyrtiko, the bright and crisp Moschofilero, and the fresh and light Vilana.
Credits: Matt Babich
So if you ever make your Greek salad with ingredients like chicken, lettuce, potatoes, and bell peppers — maybe it's great, maybe it's healthy, maybe that's how you should do it. But call it what you want; just don't call it Greek salad.
READ MORE
Greek salad - Authentic recipe
View 207 Greek dishes
View 282 salads of the world
---